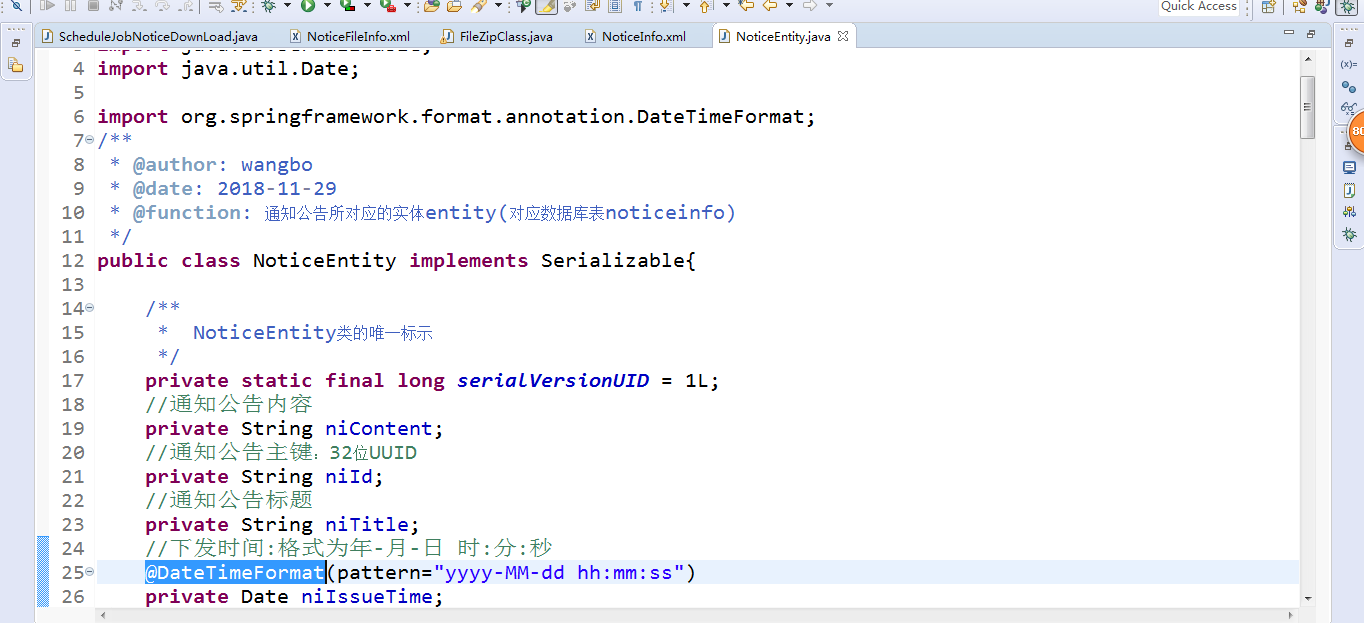 十二月 03, 2018 11:36:15 上午 com.mchange.v2.c3p0.impl.AbstractPoolBackedDataSource getPoolManager
信息: Initializing c3p0 pool... com.mchange.v2.c3p0.ComboPooledDataSource [ acquireIncrement -> 3, acquireRetryAttempts -> 30, acquireRetryDelay -> 1000, autoCommitOnClose -> false, automaticTestTable -> null, breakAfterAcquireFailure -> false, checkoutTimeout -> 0, connectionCustomizerClassName -> null, connectionTesterClassName -> com.mchange.v2.c3p0.impl.DefaultConnectionTester, dataSourceName -> 1hge7sx9zvo2z821rtc2r3|20ad0703, debugUnreturnedConnectionStackTraces -> false, description -> null, driverClass -> com.mysql.jdbc.Driver, factoryClassLocation -> null, forceIgnoreUnresolvedTransactions -> false, identityToken -> 1hge7sx9zvo2z821rtc2r3|20ad0703, idleConnectionTestPeriod -> 3600, initialPoolSize -> 10, jdbcUrl -> jdbc:mysql://localhost:3306/test?Unicode=true&characterEncoding=UTF-8&allowMultiQueries=true, lastAcquisitionFailureDefaultUser -> null, maxAdministrativeTaskTime -> 0, maxConnectionAge -> 0, maxIdleTime -> 3600, maxIdleTimeExcessConnections -> 0, maxPoolSize -> 100, maxStatements -> 0, maxStatementsPerConnection -> 0, minPoolSize -> 10, numHelperThreads -> 3, numThreadsAwaitingCheckoutDefaultUser -> 0, preferredTestQuery -> null, properties -> {user=******, password=******}, propertyCycle -> 0, testConnectionOnCheckin -> true, testConnectionOnCheckout -> false, unreturnedConnectionTimeout -> 0, usesTraditionalReflectiveProxies -> false ]
2018-12-03 11:36:15|http-nio-8089-exec-3|DEBUG| ==> Preparing: insert into noticeinfo (niId,niContent, niTitle,niIssueTime,extField,extField1,extField2,extField3,extField4) values ( ?,?, ?,?, ?,?, ?,?, ? )? |com.shenhua.file.interfaceDesign.NoticeInfoService.insertNoticeLog:139
2018-12-03 11:36:15|http-nio-8089-exec-3|DEBUG| ==> Parameters: 3ff50fa59bc141a2b9a0e38c15c843fc(String), 通知公告内容(String), 通知公告标题(String), 2018-09-29 01:01:00.028(Timestamp), null, null, null, null, null |com.shenhua.file.interfaceDesign.NoticeInfoService.insertNoticeLog:139
十二月 03, 2018 11:36:15 上午 org.springframework.beans.factory.xml.XmlBeanDefinitionReader loadBeanDefinitions
信息: Loading XML bean definitions from class path resource [org/springframework/jdbc/support/sql-error-codes.xml]
十二月 03, 2018 11:36:15 上午 org.springframework.jdbc.support.SQLErrorCodesFactory <init>
信息: SQLErrorCodes loaded: [DB2, Derby, H2, HSQL, Informix, MS-SQL, MySQL, Oracle, PostgreSQL, Sybase, Hana]
十二月 03, 2018 11:36:15 上午 org.apache.catalina.core.StandardWrapperValve invoke
严重: Servlet.service() for servlet [springContext] in context with path [/SSMTestProject] threw exception [Request processing failed; nested exception is org.springframework.jdbc.BadSqlGrammarException:
### Error updating database. Cause: com.mysql.jdbc.exceptions.jdbc4.MySQLSyntaxErrorException: You have an error in your SQL syntax; check the manual that corresponds to your MySQL server version for the right syntax to use near '??' at line 8
### The error may involve com.shenhua.file.interfaceDesign.NoticeInfoService.insertNoticeLog-Inline
### The error occurred while setting parameters
### SQL: insert into noticeinfo (niId,niContent, niTitle,niIssueTime,extField,extField1,extField2,extField3,extField4) values ( ?,?, ?,?, ?,?, ?,?, ? )?
### Cause: com.mysql.jdbc.exceptions.jdbc4.MySQLSyntaxErrorException: You have an error in your SQL syntax; check the manual that corresponds to your MySQL server version for the right syntax to use near '??' at line 8
; bad SQL grammar []; nested exception is com.mysql.jdbc.exceptions.jdbc4.MySQLSyntaxErrorException: You have an error in your SQL syntax; check the manual that corresponds to your MySQL server version for the right syntax to use near '??' at line 8] with root cause
com.mysql.jdbc.exceptions.jdbc4.MySQLSyntaxErrorException: You have an error in your SQL syntax; check the manual that corresponds to your MySQL server version for the right syntax to use near '??' at line 8
at sun.reflect.NativeConstructorAccessorImpl.newInstance0(Native Method)
at sun.reflect.NativeConstructorAccessorImpl.newInstance(Unknown Source)
at sun.reflect.DelegatingConstructorAccessorImpl.newInstance(Unknown Source)
at java.lang.reflect.Constructor.newInstance(Unknown Source)
at com.mysql.jdbc.Util.handleNewInstance(Util.java:411)
at com.mysql.jdbc.Util.getInstance(Util.java:386)
at com.mysql.jdbc.SQLError.createSQLException(SQLError.java:1052)
at com.mysql.jdbc.MysqlIO.checkErrorPacket(MysqlIO.java:3597)
at com.mysql.jdbc.MysqlIO.checkErrorPacket(MysqlIO.java:3529)
at com.mysql.jdbc.MysqlIO.sendCommand(MysqlIO.java:1990)
at com.mysql.jdbc.MysqlIO.sqlQueryDirect(MysqlIO.java:2151)
at com.mysql.jdbc.ConnectionImpl.execSQL(ConnectionImpl.java:2625)
at com.mysql.jdbc.PreparedStatement.executeInternal(PreparedStatement.java:2119)
at com.mysql.jdbc.PreparedStatement.execute(PreparedStatement.java:1362)
at com.mchange.v2.c3p0.impl.NewProxyPreparedStatement.execute(NewProxyPreparedStatement.java:989)
at sun.reflect.NativeMethodAccessorImpl.invoke0(Native Method)
at sun.reflect.NativeMethodAccessorImpl.invoke(Unknown Source)
at sun.reflect.DelegatingMethodAccessorImpl.invoke(Unknown Source)
at java.lang.reflect.Method.invoke(Unknown Source)
at org.apache.ibatis.logging.jdbc.PreparedStatementLogger.invoke(PreparedStatementLogger.java:62)
at com.sun.proxy.$Proxy34.execute(Unknown Source)
at org.apache.ibatis.executor.statement.PreparedStatementHandler.update(PreparedStatementHandler.java:44)
at org.apache.ibatis.executor.statement.RoutingStatementHandler.update(RoutingStatementHandler.java:69)
at sun.reflect.NativeMethodAccessorImpl.invoke0(Native Method)
at sun.reflect.NativeMethodAccessorImpl.invoke(Unknown Source)
at sun.reflect.DelegatingMethodAccessorImpl.invoke(Unknown Source)
at java.lang.reflect.Method.invoke(Unknown Source)
at org.apache.ibatis.plugin.Plugin.invoke(Plugin.java:62)
at com.sun.proxy.$Proxy32.update(Unknown Source)
at org.apache.ibatis.executor.ReuseExecutor.doUpdate(ReuseExecutor.java:50)
at org.apache.ibatis.executor.BaseExecutor.update(BaseExecutor.java:105)
at org.apache.ibatis.executor.CachingExecutor.update(CachingExecutor.java:71)
at org.apache.ibatis.session.defaults.DefaultSqlSession.update(DefaultSqlSession.java:152)
at org.apache.ibatis.session.defaults.DefaultSqlSession.insert(DefaultSqlSession.java:141)
at sun.reflect.NativeMethodAccessorImpl.invoke0(Native Method)
at sun.reflect.NativeMethodAccessorImpl.invoke(Unknown Source)
at sun.reflect.DelegatingMethodAccessorImpl.invoke(Unknown Source)
at java.lang.reflect.Method.invoke(Unknown Source)
at org.mybatis.spring.SqlSessionTemplate$SqlSessionInterceptor.invoke(SqlSessionTemplate.java:358)
at com.sun.proxy.$Proxy14.insert(Unknown Source)
at org.mybatis.spring.SqlSessionTemplate.insert(SqlSessionTemplate.java:240)
at org.apache.ibatis.binding.MapperMethod.execute(MapperMethod.java:51)
at org.apache.ibatis.binding.MapperProxy.invoke(MapperProxy.java:52)
at com.sun.proxy.$Proxy22.insertNoticeLog(Unknown Source)
at com.shenhua.file.serverImpl.NoticeInfoServerImpl.insertNoticeLog(NoticeInfoServerImpl.java:46)
at com.shenhua.file.serverImpl.NoticeInfoServerImpl$$FastClassBySpringCGLIB$$42cc30c7.invoke(<generated>)
at org.springframework.cglib.proxy.MethodProxy.invoke(MethodProxy.java:204)
at org.springframework.aop.framework.CglibAopProxy$CglibMethodInvocation.invokeJoinpoint(CglibAopProxy.java:720)
at org.springframework.aop.framework.ReflectiveMethodInvocation.proceed(ReflectiveMethodInvocation.java:157)
at org.springframework.transaction.interceptor.TransactionInterceptor$1.proceedWithInvocation(TransactionInterceptor.java:99)
at org.springframework.transaction.interceptor.TransactionAspectSupport.invokeWithinTransaction(TransactionAspectSupport.java:281)
at org.springframework.transaction.interceptor.TransactionInterceptor.invoke(TransactionInterceptor.java:96)
at org.springframework.aop.framework.ReflectiveMethodInvocation.proceed(ReflectiveMethodInvocation.java:179)
at org.springframework.aop.interceptor.ExposeInvocationInterceptor.invoke(ExposeInvocationInterceptor.java:92)
at org.springframework.aop.framework.ReflectiveMethodInvocation.proceed(ReflectiveMethodInvocation.java:179)
at org.springframework.aop.framework.CglibAopProxy$DynamicAdvisedInterceptor.intercept(CglibAopProxy.java:655)
at com.shenhua.file.serverImpl.NoticeInfoServerImpl$$EnhancerBySpringCGLIB$$7f3a49c0.insertNoticeLog(<generated>)
at com.shenhua.file.controller.FileZipClass.readerNoticeDate(FileZipClass.java:349)
at com.shenhua.file.controller.FileZipClass.xmlFileReader(FileZipClass.java:295)
at com.shenhua.file.controller.FileZipClass.test(FileZipClass.java:265)
at sun.reflect.NativeMethodAccessorImpl.invoke0(Native Method)
at sun.reflect.NativeMethodAccessorImpl.invoke(Unknown Source)
at sun.reflect.DelegatingMethodAccessorImpl.invoke(Unknown Source)
at java.lang.reflect.Method.invoke(Unknown Source)
at org.springframework.web.method.support.InvocableHandlerMethod.doInvoke(InvocableHandlerMethod.java:222)
at org.springframework.web.method.support.InvocableHandlerMethod.invokeForRequest(InvocableHandlerMethod.java:137)
at org.springframework.web.servlet.mvc.method.annotation.ServletInvocableHandlerMethod.invokeAndHandle(ServletInvocableHandlerMethod.java:110)
at org.springframework.web.servlet.mvc.method.annotation.RequestMappingHandlerAdapter.invokeHandlerMethod(RequestMappingHandlerAdapter.java:814)
at org.springframework.web.servlet.mvc.method.annotation.RequestMappingHandlerAdapter.handleInternal(RequestMappingHandlerAdapter.java:737)
at org.springframework.web.servlet.mvc.method.AbstractHandlerMethodAdapter.handle(AbstractHandlerMethodAdapter.java:85)
at org.springframework.web.servlet.DispatcherServlet.doDispatch(DispatcherServle