Lab2-2 Programming Blog
Liu_Jiewen
2022-11-18 23:36:56
Lab2-2 Programming Blog
This page provides best reading experience in the sequence of:
Typora(md)
Github.com(HTML)
Github.com(md)
CSDN.net
Links are provided in the End Section.
Contents
Lab2-2 Programming Blog
Contents
Keys or Difficulties in programming thinking
Photo Proof of Pair Working
Working Progress
PSP Form
Learning Progress Bar
Demonstration
End
Keys or Difficulties in programming thinking
Problem: Hide the default actionbar so we can make it a better look.
Solution: After carefully inspecting codes of some samples, we set it to some theme to solve it.
Problem: Make a customized kind of actionbar and make sure it's good for reusing.
Solution: Tried multiple combinations of settings, we finally found the way the achieve this. This process cost us lots of time.
Problem: How to think about the relationship between single player mode and multiplayer mode.
Solution: We made thorough understanding of class Activity and decided to share the same activity but invoked differently.
Key: Speed up working progress if simple and plain solutions exist.
Key: Make good uses of debug function of the IDE to figure out mistakes quickly.
Photo Proof of Pair Working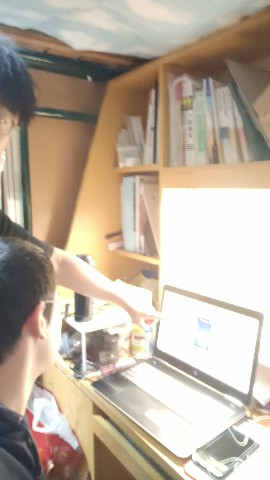 Working Progress
This section consists of PSP Form and Learning Progress Bar.
PSP Form
| Stages | Estimated Time Cost | Actual Time Cost |
| --- | --- | --- |
| Planning | | |
| Estimate | 10 | 10 |
| Development | | |
| Analysis | 15 | 15 |
| Design Spec | 15 | 15 |
| Design Review | 10 | 10 |
| Coding Standard | 10 | 5 |
| Design | 40 | 60 |
| Coding | 300 | 700 |
| Code Review | 45 | 60 |
| Test | 20 | 10 |
| Report | | |
| Test Report | 15 | 15 |
| Size Measurement | 10 | 30 |
| Postmortem&Process Improvement | 15 | 30 |
| Total | 505 | 960 |
Learning Progress Bar
| week | Added code (line) | Cumulative code (lines) | Study Time this week (hours) | Cumulative learning time (hours) | Important Growth |
| --- | --- | --- | --- | --- | --- |
| 1 | 435 | 678 | 8 | 8 | Design and unit test the back end |
| 2 | 846 | 1667 | 10 | 18 | Fix bugs, redesign UI |
Demonstration
Project on Github.com: https://github.com/LiuJiewenTT/ee308fz_lab2
Video link:
End
Project on Github.com: https://github.com/LiuJiewenTT/ee308fz_lab2
URL on github.com of this passage(download): https://liujiewentt.github.io/ee308fz_lab2/blog2.md

URL on github.com of this passage(view with Github md): https://github.com/LiuJiewenTT/ee308fz_lab2/tree/main/blog2.md
URL on github.com of this passage(view as html): https://liujiewentt.github.io/ee308fz_lab2/blog2.html

URL on csdn.net of this passage(view as html): https://bbs.csdn.net/topics/609331209
...全文